Sustainability and the environment: Producers of materials and accessories are finally making a commitment
Hemp, linen, silk, everything had started well, but precious silks were replaced by cheaper, less fragile, synthetic versions. Linen and hemp, whose resistant fibers are however endowed with a recognized performance, will not resist the competition of synthetic fibers resulting from oil. The end of the 20th century saw the lin- gerie market test the first natural fibers or fibers of natural origins, made of coffee or tea, bamboo, nettle or orange for plant-based fibers; milk, rabbit hair or fish skin for animal fibers. Natural and ecological fibers, but which, for the most part, do not reach the stage of industrialization that is essential for the eager and demanding fashion industry.
CERTIFIED LACE AND EMBROIDERY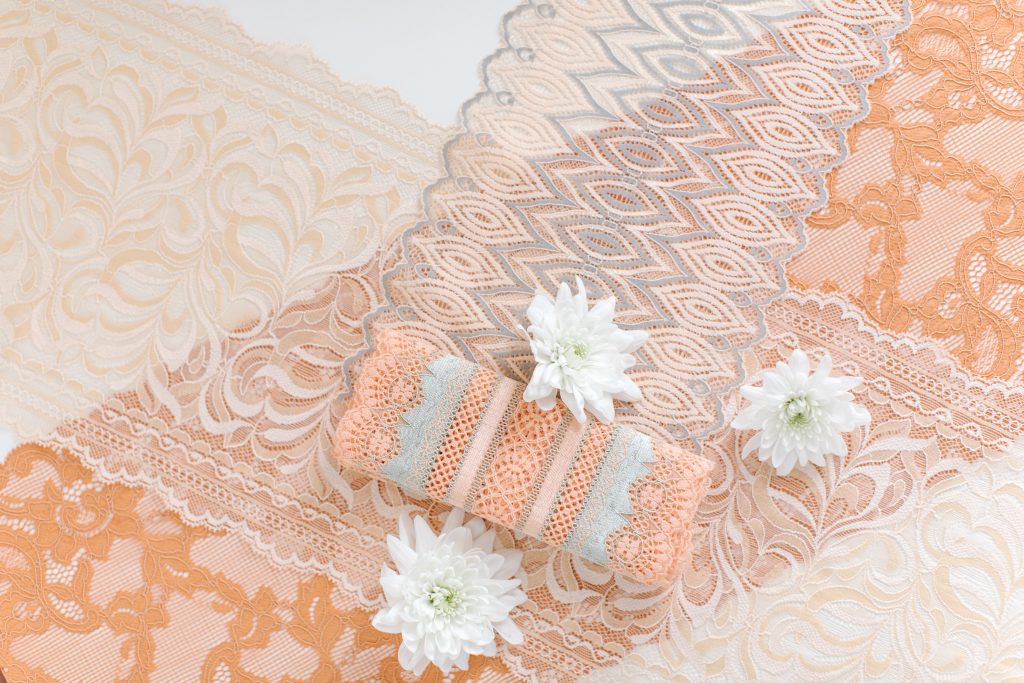 GOTS (Global Organic Textile Standard) and GRS (Global Recycle Stan- dard) certifications have become essential in the development of sustainable textile products, and are becoming more widespread, particularly in embroiderers' and lacemakers' collections. This is the case for Sophie Hallette who is presenting an offer of reinforced GOTS cotton and silk laces and FSC (Forest Stewardship Council) Chantilly lace. The same thing goes for the Italian lace maker Siva, or the French Solstiss, which has been developing GOTS cotton laces for four years. This certification guarantees the use of eco-friendly production and transformation processes, the use of organic fibers and the prohibition of dangerous inputs but also the respect and improvement of working conditions. "Our clients don't even ask us the 'organic or not' question anymore. Our entire offer can be made in organic cotton", explains Adelin Sapin, Artistic Director at Solstiss. Jean Bracq goes even further : as stocks of conventional yarn run out, the lace making industry systematically switches to being organic. This year, it is the bobbin tulles in 100% GOTS cotton. The French Bugis inaugurated a striped jersey in GOTS cotton with vegan dye.
RECYCLED PRODUCTS ARE GAINING GROUND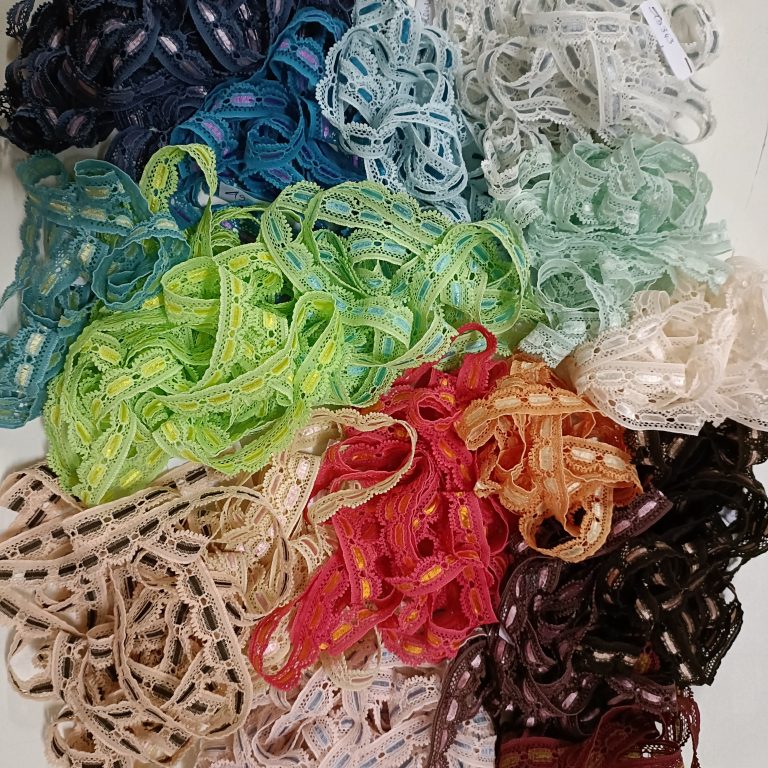 As virtuous as it is, the recycled fiber market still has a long way to go. At the heart of environmental issues, recycling requires, we know it, the establishment of appropriate channels capable of recovering used textiles by giving a second life to our waste. In the jungle of recycling, caution is required. The GRS certification is a guarantee of confidence for garment producers. However, Zoya Rutskaya Sebek, general manager of trans- formation at the lace maker Chanty, points out that "the demand is very marketized.
Some lingerie brands can opt for the gRS certification, but others cannot for bureaucratic reasons. It's still very complicated. At Chanty, three people are working full time on this subject. Nevertheless, the movement is well un- derway. More and more producers are acquiring the GRS label, whose strict specifications guarantee compliance with environmental and social criteria. This is the case for the Swiss embroiderer Embrex or the lace maker Sakae Lace, which now offers a range of recycled nylon and polyester laces, sus- tainably produced and dyed with natural dyes. Whatever the market, knitted fabrics for day and night lingerie, swimwear fabrics, accessories, ribbons, hulls, recycled offers are expanding. With its Cradle2Cradle collection, the Turkish company Sanko Textile is one of the flagships of the circular economy in its knitted fabrics market. Its Istanbul neighbour, Antik Dantel, is multiplying its efforts and now offers numerous designs on stretch or rigid bases in recycled polyamide and polyester. "Wanjiali is well aware of the environmental concerns of its customers, sports and lingerie," says Franck Abolo, Sales and Marketing Manager. This year the focus is on an increased offer of fabrics and laces made of recycled yarns. When it comes to swimwear, it's the Spanish company Estilmar who is leading the way with its new collection Ecowave based on four ideas: recycled thread – green energy – zero waste – ecological imprint. The accessory market – elastic, ribbons, ornaments, hulls and pads – is also going green. The collections show through suggestive names: Biocare for the Spanish producer of ribbons Cintas Martell, Art d'Eco for the elastic bands of the Italian Michele Letizia. Not to mention the new collection of hulls in recycled polyester and ornaments with zamak buckles and recycled and recyclable materials by Art Martin.
NATURALLY SUSTAINABLE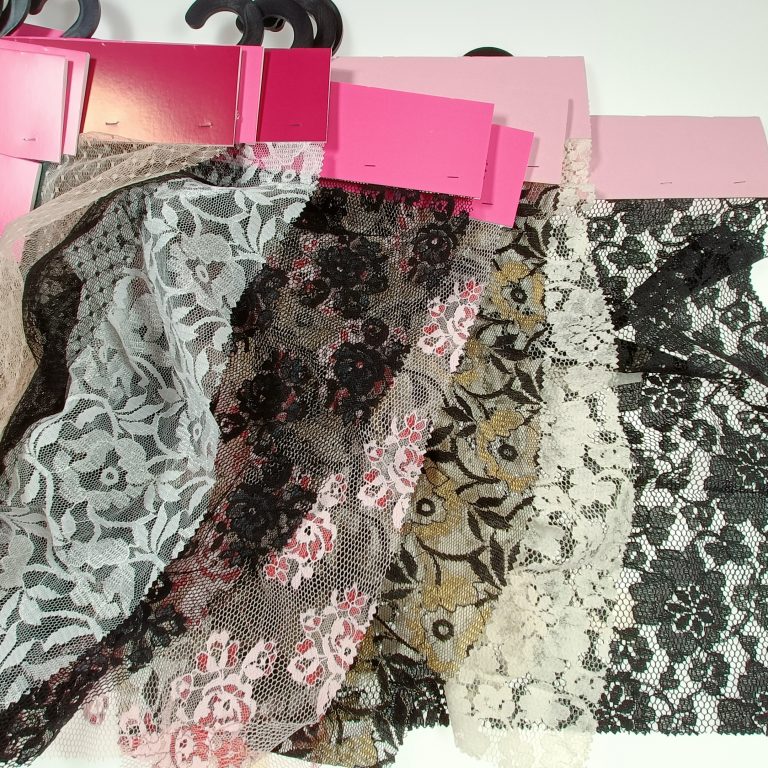 Well determined to expose conventional synthetics in favor of the recycled ones, the lingerie market is finally discovering naturally ecological materials as old as linen and hemp. "Our commitment is clear: eco-responsibility, sustainability and respect for the environment on every level of our creative initiative. Less dispersion in the choice, less color studies, and less samples that end up in the garbage", says Marielle Cordenod, Communication manager at AET. Among the new products proposed by the French knitwear producer: a Tencel/hempe blend that is naturally fluid, thermoregulation and antibacterial for nightwear and homewear, a jersey made of cotton and modal/ bamboo/Tencel and elastane, as light and breathable as a second-skin veil, and a two-sided bamboo/polyester sport piqué that completes an offer of organic cotton and recycled polyester and polyamide items. As fully committed, the Austrian brand Feinjersey has a collection that is practically 100% eco-responsible: modal/silk, C2C micromodal, organic cotton, recycled polyamide, cotton and coton et Lyocell Seacell, Micro Tencel, but also sensitive Microlyocell SmartCell, hyaluronic PA Mery, Tencel Eco Clean with or without cashmere and Meryl Skinlife. "The entire company is solar-powered. The finishing has also been completely renewed", says the Sales Director Diego Allegrini, proud of the two innovations he is presenting at the trade show: a polyamide yarn without plastic particles and new CBD hemp fibers whose virtues and performance are no longer to be proven.